Discover Christmas Markets in Berlin
The Christmas markets open on November 27th. The variety is huge – there are the traditional ones or the more unusual ones. For example, medieval markets with lots of craft stalls. Or do you prefer the big funfair with a Ferris wheel, rollercoaster and music?
Find your favorite here: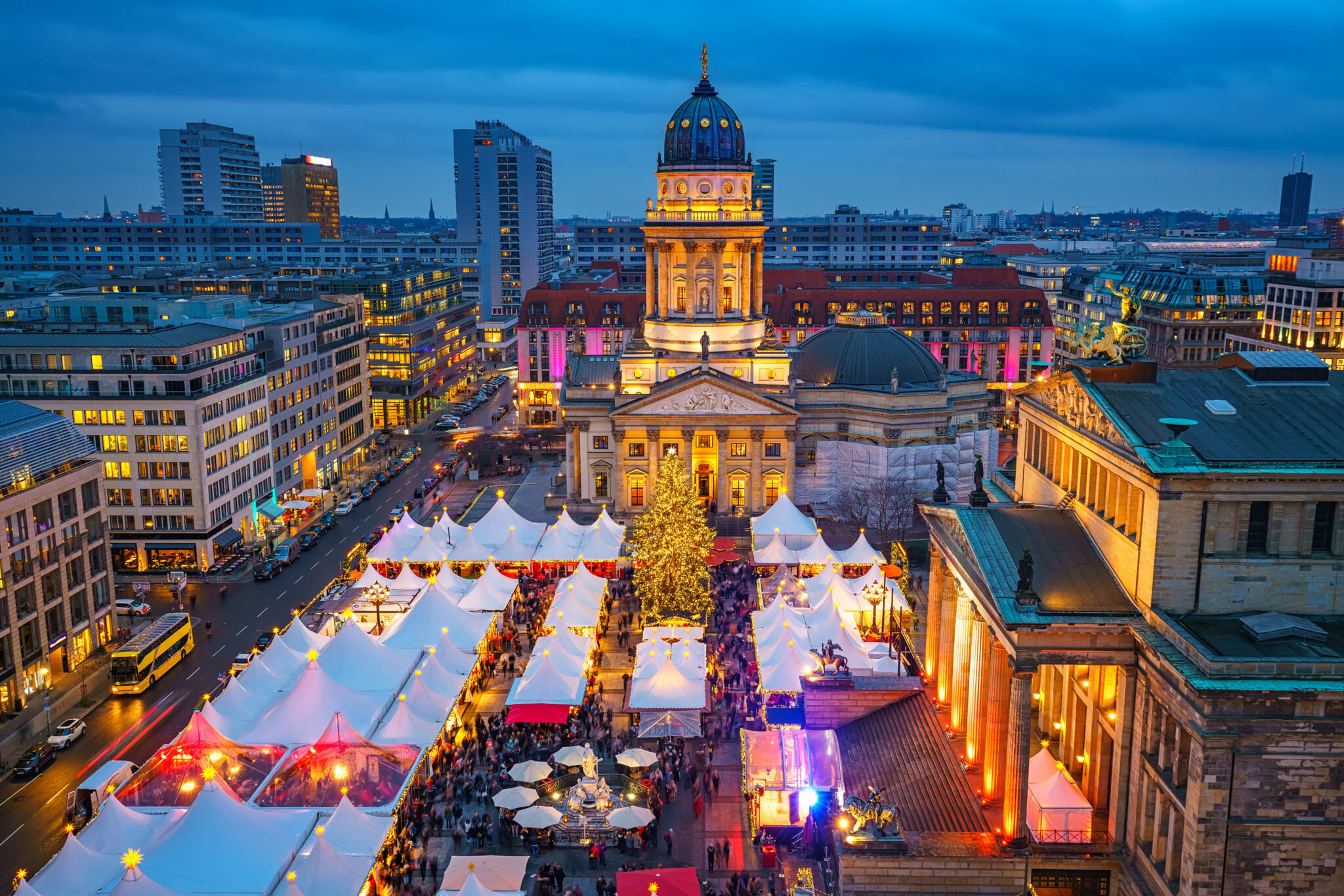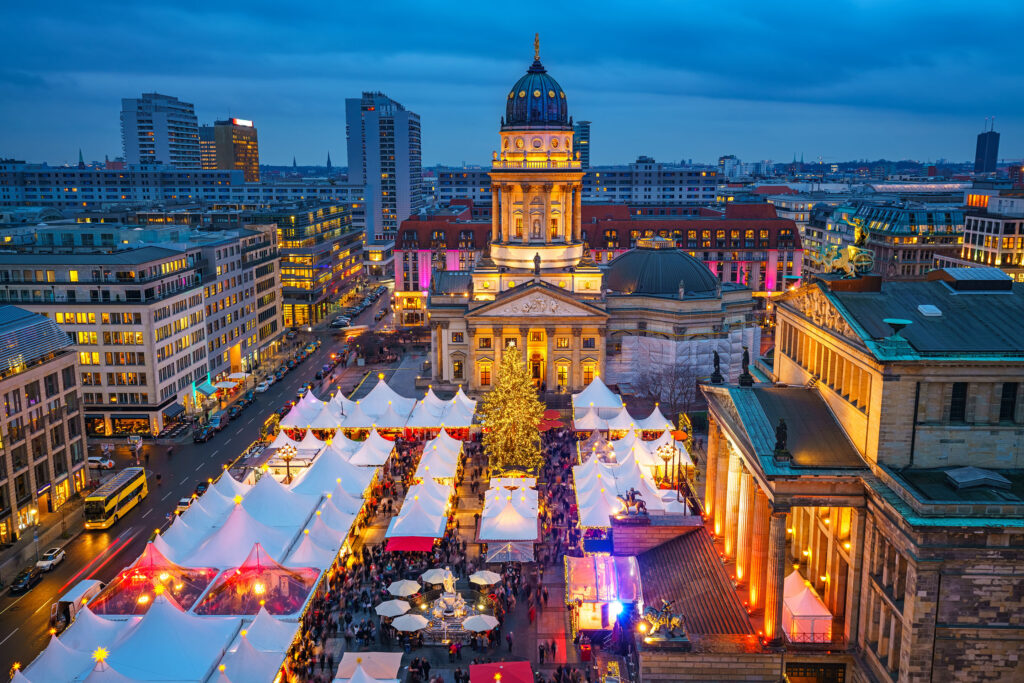 For traditionalists: Christmas market at Gendarmenmarkt
Surrounded by the historic scenery of the Gendarmenmarkt, the Christmas market attracts visitors with a wide range of handicrafts and traditional delicacies such as roasted almonds, chestnuts and mulled wine, as well as unusual snacks and menus.
Location: Bebelplatz, 10117 Berlin
Date: November 27 to December 31, 2023
Opening hours: Sunday to Thursday from 12 noon to 10 pm, Friday and Saturday from 12 noon to 11 pm, Christmas Eve from 12 noon to 6 pm, New Year's Eve from 12 noon to 1 am
Admission: 1,00 €
www.weihnachtsmarkt-berlin.de
For romantics: Christmas market at Charlottenburg Palace
Glittering light installations and a variety of wooden huts and pagoda tents with unusual gift ideas await you in the castle garden. Of course, there are also plenty of Christmas treats. There are several well-known museums just around the corner. Perhaps you would like to combine a visit to the Christmas market with a museum tour.
Location: Charlottenburg Palace Park
Date: November 27 to December 31, 2023
Opening hours: 12 to 22 o'clock
Admission: free entry
www.schloss-weihnachtsmarkt.de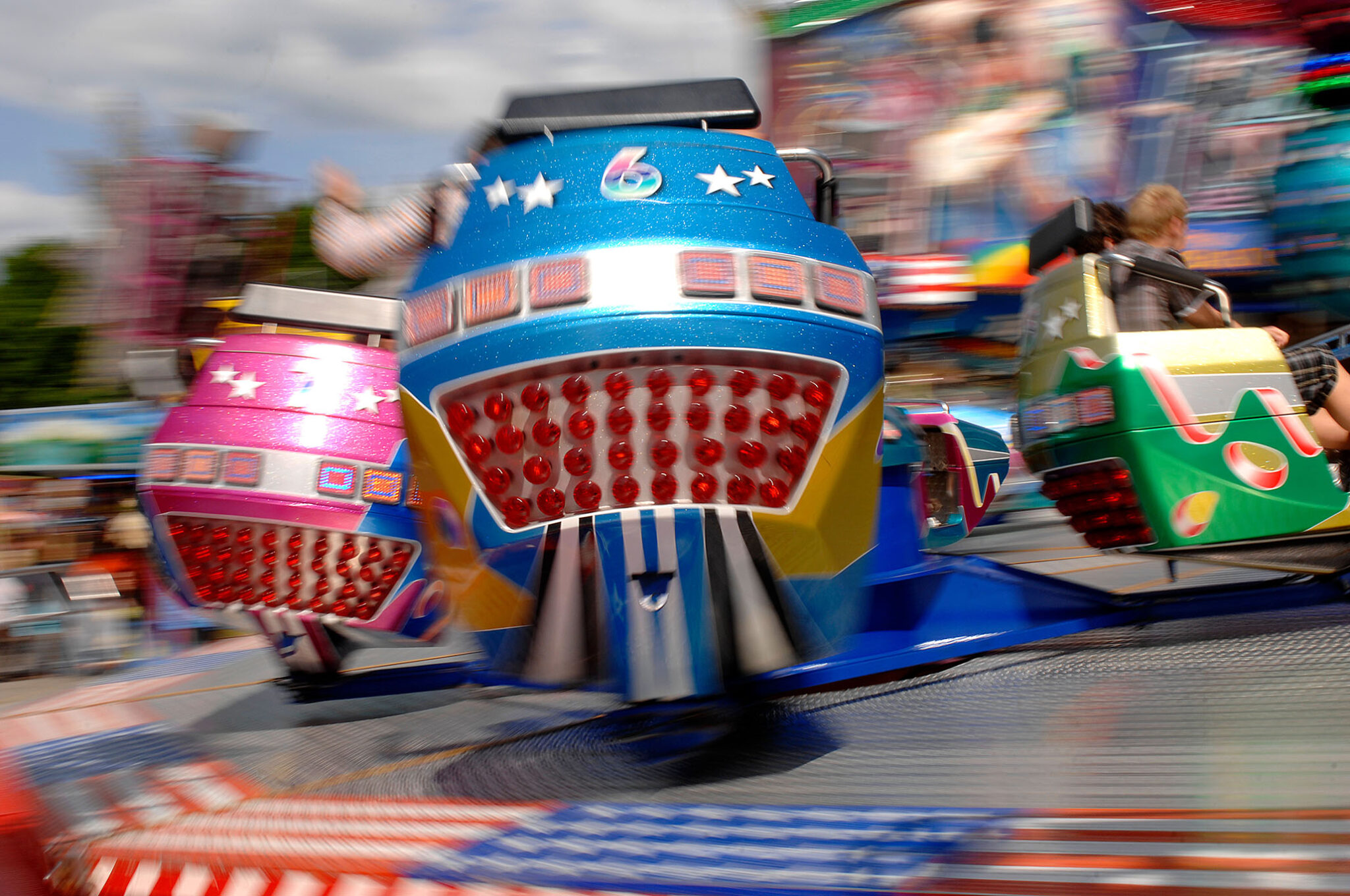 For action fans: "Berlin Winter Magic" on Landsberger Allee
This Christmas market near our student residences in Alfred-Jung-Straße boasts a variety of rides. Of course, there are also typical dishes such as waffles, mulled wine and barbecue specialties.
Location: Landsberger Allee 300, 13055 Berlin
Date: November 03 to December 30, 2023
Opening hours: Monday to Thursday from 2 to 9:30 pm, Friday and Saturday from 1 to 11 pm, Sunday and public holidays from 12 to 9 pm
Admission: free entry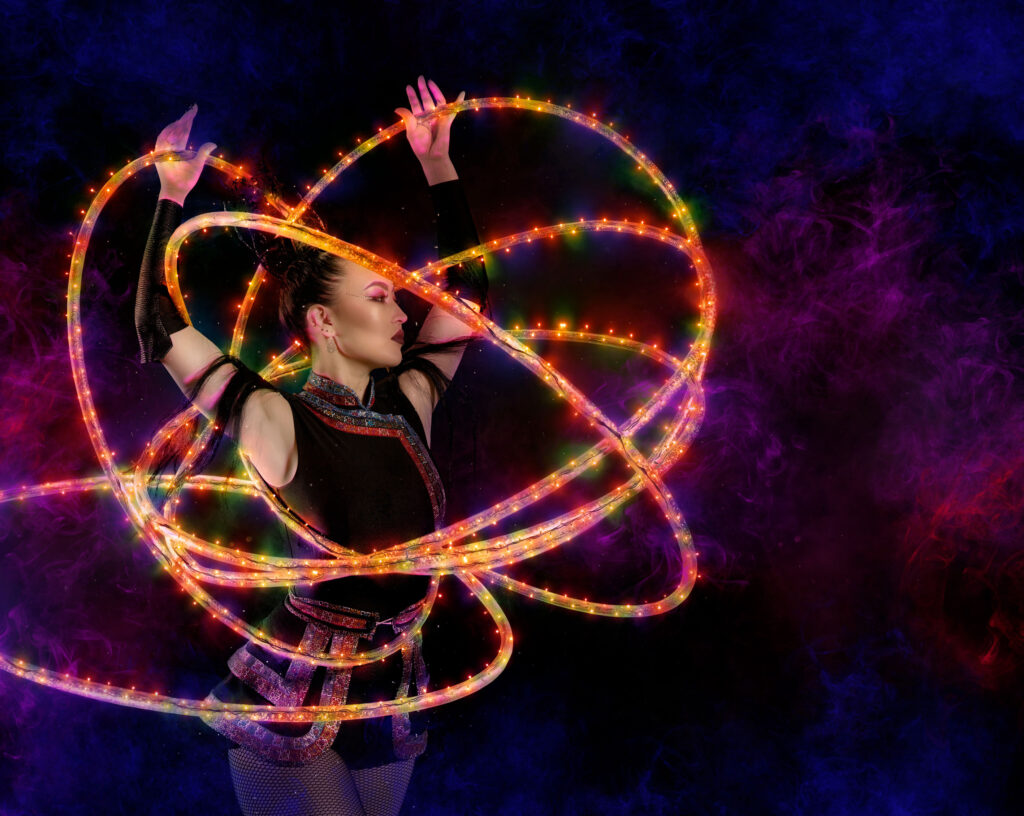 For medieval fans: Christmas market on the RAW grounds
Fans of the Middle Ages – this is for you: This market offers handmade works by blacksmiths, wood carvers, potters and other artisans. The whole area is illuminated with torches and jugglers and acrobats perform. Here you can sample hot mead, Feuerzangenbowle and hearty food.
Location: RAW-Gelände Friedrichshain, Revaler Straße 99, 10245 Berlin
Date: November 16 to December 22, 2023
Opening hours: Monday to Friday from 3 to 10 p.m., Saturday and Sunday from 12 to 10 p.m., Closed on Sunday of the Dead (November 26)
Admission: Monday and Tuesday free of charge, Wednesday to Sunday: 3,00 €, concessions 1,50 € (box office)
www.carnica-spectaculi.de
For the unusual: "Holy Shit Shopping" in the Arena
If you are looking for a design market for creative gift ideas, this is the place to be. With a mulled wine, cocktail or street food in hand, you can stroll through the rows and discover hand-picked products from over 300 artists and creatives.
The stalls offer fashion, jewelry and decorations, as well as art, photography, literature and treats to give away and snack on, while DJs play the right music in the background.
Location: Arena Berlin, Eichenstraße 4, 12435 Berlin
Date: December 02 and 03, 2023
Opening hours: 12 to 7 p.m.
Admission: 8,00 €
www.holyshitshopping.de