Service
On this page you will find hints and services from Home in Berlin, that make life easier for you.
Cleaning equipment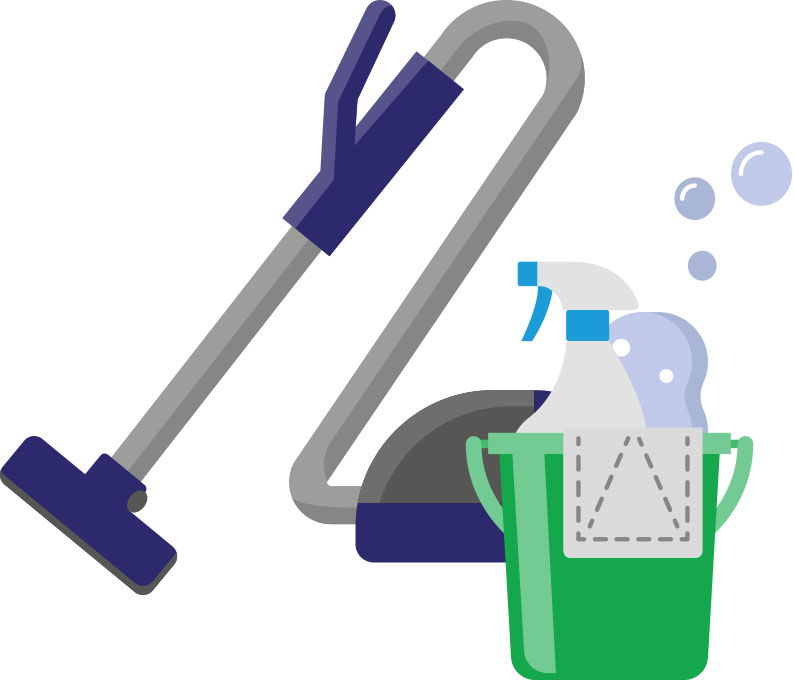 You are only a tenant for a short time in one of our student apartments in Berlin and do not want to buy your own cleaning equipment? No problem. We provide you with
vacuum cleaner
mop
bucket
sponges
and much more.
How it works
From Monday to Friday, between 9:00 and 12:00, you can ask the staff of our cleaning service in each student dormitory to lend you everything you need.
As a small "lending fee" we expect you to make a donation of 2.00 € to the aid organization "Arche", which uses your donation to support needy families in Berlin. Please show the donation receipt as proof when borrowing.
https://www.kinderprojekt-arche.de/helfen-sie/geldspende/fur-die-arche-spenden
200 euro one-time payment for students, vocational and technical students – an overview:
The online application is expected to be possible only from 15.03.2023!
Who is eligible?
All students and technical students who were enrolled at a university or were undergoing technical training on December 1, 2022, are to receive a one-time payment of 200 euros. The prerequisite for this is to be able to show a place of residence or "habitual abode" in Germany on the aforementioned cut-off date.
Also for foreign students?
Yes. Foreign students can apply for the one-off payment if they had their place of residence or habitual abode in Germany on December 1, 2022 and were enrolled at a higher education institution in Germany on that date. The usual duration of residence for a one-semester study or school stay is sufficient to establish habitual residence.
Where can the application be submitted?
Not at all yet! Online application is expected to be available from March 15, at www.einmalzahlung200.de
Is there anything I can do right now?
Yes, for the application either a BundID account or a personal Elster certificate is necessary, which can be created now. This will speed up the payment when the time comes.
What is an ELSTER certificate? (For applicants with foreign citizenship)
An ELSTER certificate is a digital certificate used for authentication when filing electronic tax returns. The certificate is issued by the German tax authorities and enables tax returns to be filed electronically, tax assessments to be retrieved and other tax-related, as well as civil, matters to be handled online.
The ELSTER certificate is free of charge and can be applied for online on the ElsterOnline portal website. To apply, one must first register and provide some personal information. For this purpose, a valid passport must be uploaded for identification.
What is the BundID account? (for domestic applicants / German citizenship)
A federal ID card with activated online function (eID function) enables the creation of a user account that can be used as a central means of authentication for online services provided by public authorities.
To set up such a user account, you first need an activated federal ID card. Then one has to register on the website of the AusweisApp2 and install the AusweisApp2 on one's computer or smartphone. An NFC-enabled smartphone or USB card reader is required for this. Then one can register with a public authority or online service and activate the eID function.
Once one has set up the user account, one can use it to log in to various online services of public authorities. This eliminates the need to log in to each service individually and allows one to access their personal data conveniently and securely.
More detailed information on how to apply for the one-time payment can be found at: www.einmalzahlung200.de.